We're pleased to welcome you to Garza Veterinary Clinic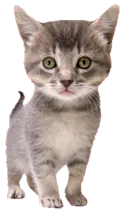 Walk-ins Accepted Through Our Fast Track
Our facility accepts all walk-ins, no appointment necessary. Walk-in services that do not require an appointment will be first puppy or first kitten vaccines, or follow up vaccines. Our fast track hours are from 8:30 am - 1:00 pm and from 2:30 pm through 5:30 pm. All annual vaccines and check ups qualify for our fast track service. All surgeries are by appointment only. Our client service representative will attempt to accommodate all requests to the best of our ability. If you have a sick dog or cat, please bring in as early as possible, to allow us enough time to treat. All our sick patients requiring a consultation can be seen between the hours 9:00 am - 11:00 am then in our afternoon hours of 2:30 pm through 5:00 pm. If you have an emergency , it is best to call before coming in so that a staff member can advise you on your particular emergency.
All Surgeries Are By Appointment Only
All our surgeries are by appointment only. If you wish to make an appointment please call us at 281-445-3647 and our client service representative will be happy to assist you.
We have a veterinarian and personnel on duty 6 days a week who are trained and equipped to handle any emergency or urgent care your pet has. Usually an emergency team consists of at least one veterinarian and several technicians working together to save a pet's life. Emergencies can be things such as poisoning, hit by car, and chocolate ingestion or an emergency c-section. If you ever feel that your pet needs emergency treatment do not hesitate to call or come in immediately. If possible it is best to call before coming in so that a team member can advise you on your particular emergency.
We are also available for urgent care when the condition is not life-threatening. If you feel your pet needs to be seen before you are able to get an appointment, our veterinarians will work to "squeeze" you in between scheduled appointments. When you arrive, our receptionists will be able to give you an estimate on how long you may have to wait in order to be seen.
Garza Veterinary Clinic is a small animal practice. We have been known to see some exotics and on occasion other domestic animals. If you have a question about a particular pet, don't hesitate to call us and we'll be happy to answer any questions.